That, ladies and gentlemen, is a turkey brined in Dunkin Donuts coolattas, filled with munchkin doughnut holes, and covered with a syrup and sprinkles.
And what do you serve with a strangely sweet turducken? Mashed hashbrowns and the munchkin stuffing covered in a special coffee gravy obviously. You knew it couldn't be a Dunkin' Donut turducken without the coffee being thrown in there somewhere, too, right?
As usual, someone was nice (proud?) enough to share all the pictures, ingredients, and reviews of the whole process so we can indulge vicariously through their efforts. Do you think you would eat this?
The girls always love when I make haystacks, or rather, they get to make them, because the ingredients are rarely the same twice, and they each get to customize their "chicken sundae."
Hawaiian haystacks aren't even from Hawaii, by the way. It's just that pineapple is a common ingredient and that's connected to the Hawaii name.
Anyway, if you've never made them before, you should. Haystacks are a great way to finish off a bunch of ingredients that you only have a handful of, and if you have picky eaters, no problem…..only add the items each person wants.
Hawaiian Haystacks Recipe:

Rice
Chicken, chunked or shredded (leftover chicken works great)
Chicken sauce/gravy (recipes below)
Any number of diced/sliced/chopped ingredients including pineapple, olives, green onions, green peppers, chow mein noodles, mandarin oranges, cheese, avocado

Pile on in order and enjoy. Yep, it's that simple.
Chicken Sauce Recipe Ideas:

(The links are to recipes that don't use canned condensed soup, if you're like me and try to avoid it….but the canned soup version is tasty and fine if you're okay using it)

1 cup chicken, 1 can cream of chicken soup, 1 cup water, salt and pepper (you could also add sour cream, cream cheese, chicken broth, or milk in addition to or in place of various ingredients….really, it's not an exact science….work with what you have)
Your Sacred Calling (this one uses coconut milk
Here's some of the ingredients from another time I made them:
So colorful. The second item on the top row is chopped almonds, by the way….they give a nice crunch.
Shared with Blog Hop
That's what it looks like. Amazing. Stunning. Delicious. Piled high with thick potato fries, curds, bacon, peppers, onions, and loads of gravy.
Here's another view.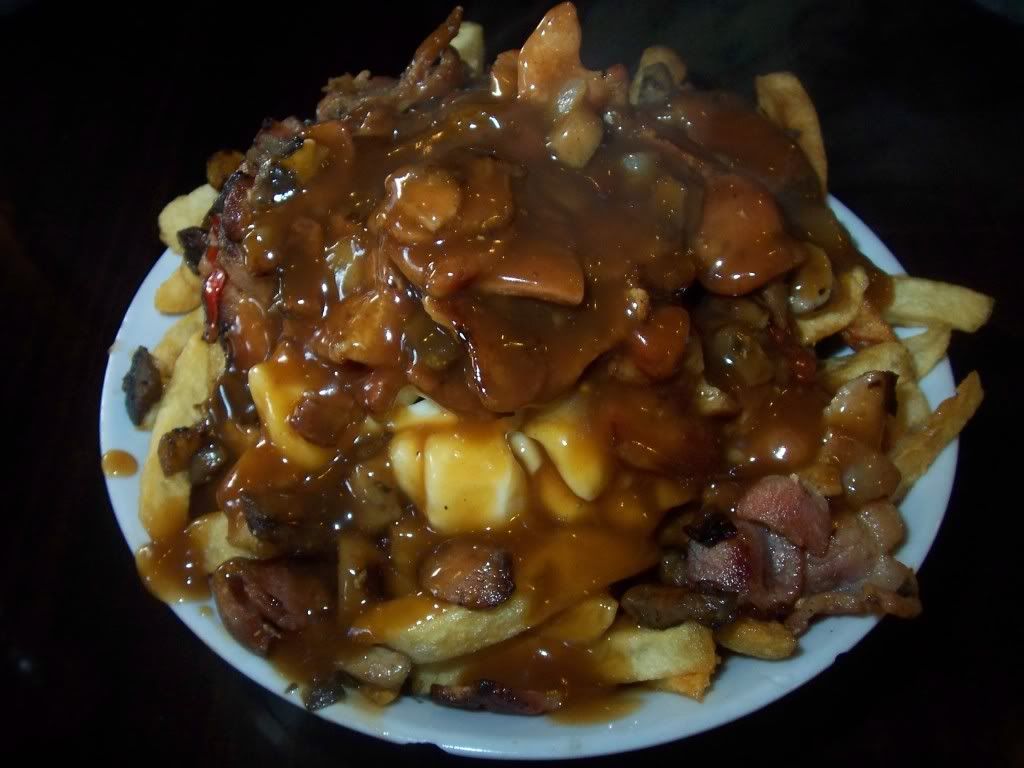 Oh yeah, heaven. I've attempted recreating this myself (yeah, I'll show you the pictures another time, hehe), but I have yet to get anywhere close to the incredible (yes, it's worth this many adjectives) poutine from Belgian Fries on Commercial Drive in Vancouver.
Did I mention how good this tasted? Mmm.