Actually, I'd love some curly fries now….
Unfortunately, this isn't available for Christmas this year. It's shame, too; I've seen it listed in so many places this season that I can only imagine how much they would've sold.
Instead, it's on Kickstarter and you can "preorder," in a sense, and expect orders to be filled in a couple months. They've already reached their funding goal by a long shot, so start thinking of the gifts you'd wrap in this awesome paper.
I'm thinking books are an obvious route, with them easily being the right shape and something you might give multiples of at once. Maybe boxes of chocolate for Valentine's Day?
Nablopomo – Something I need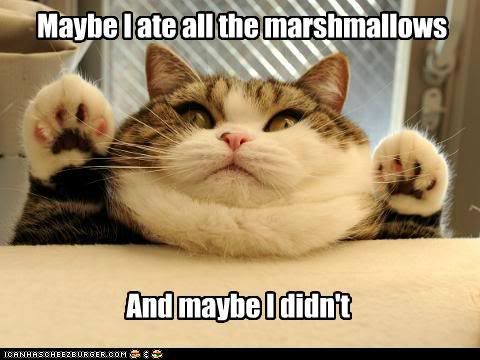 Unlike wants, needs are a little harder to pinpoint sometimes. Does that kitty really need more marshmallows? Nah. :P Does he really, really, really want them? Oh yeah!
Right now, I completely sympathize with that last kitty. Sometimes, a craving is so intense that you just need it.
I think these little guys may not realize the difference between want and need.