It's both a Halloween trick and a treat, no?
The girls love burgers, so I thought it'd be a blast to make an extra large one. It was Fall of 2009 and it was probably one of the first times I went on a true pumpkin kick. I was loving "look alikes" at the time, too, so it just fit, don't you think?
Anyway, I'll leave you with the pictures. Details of how I made it are at the bottom.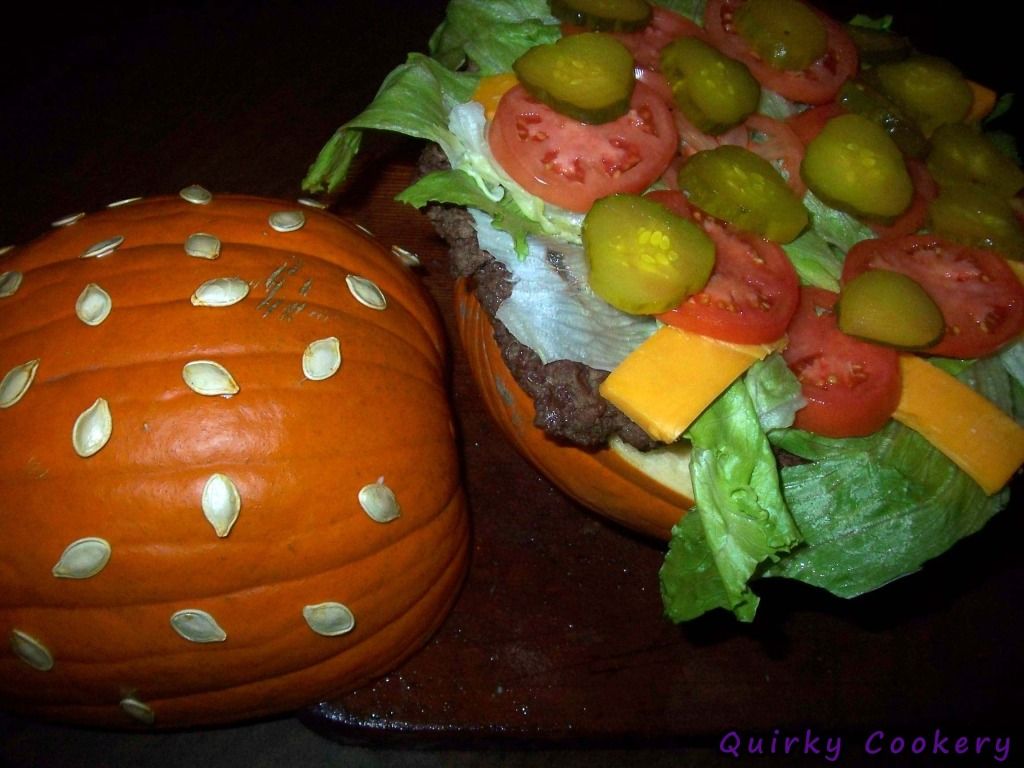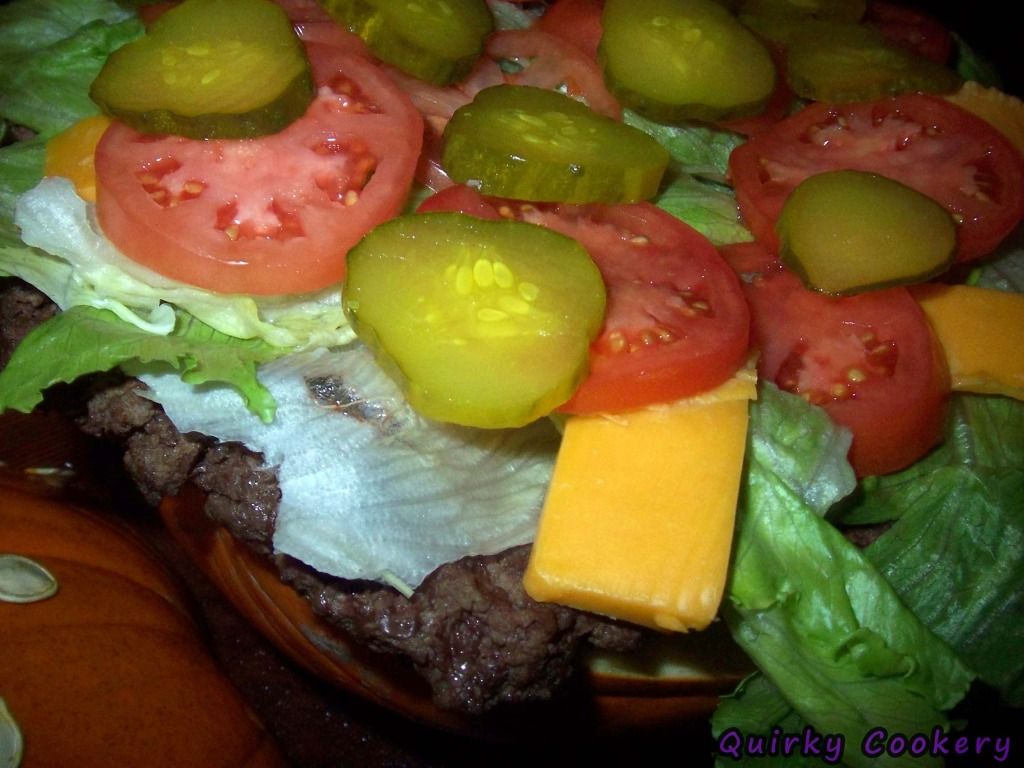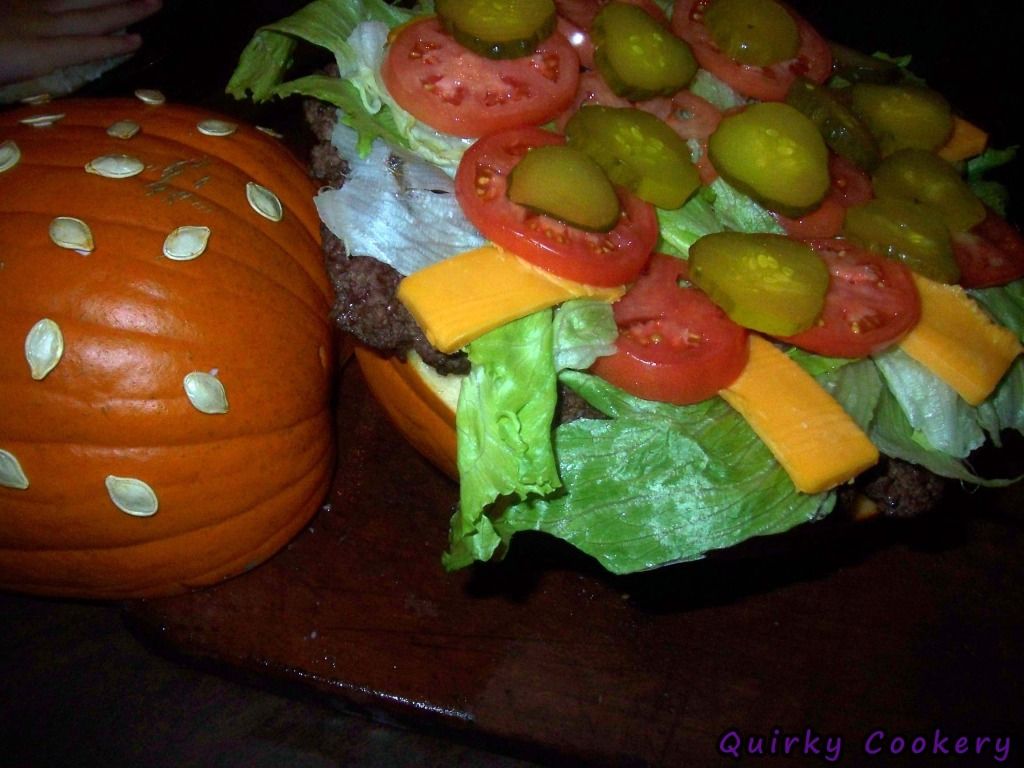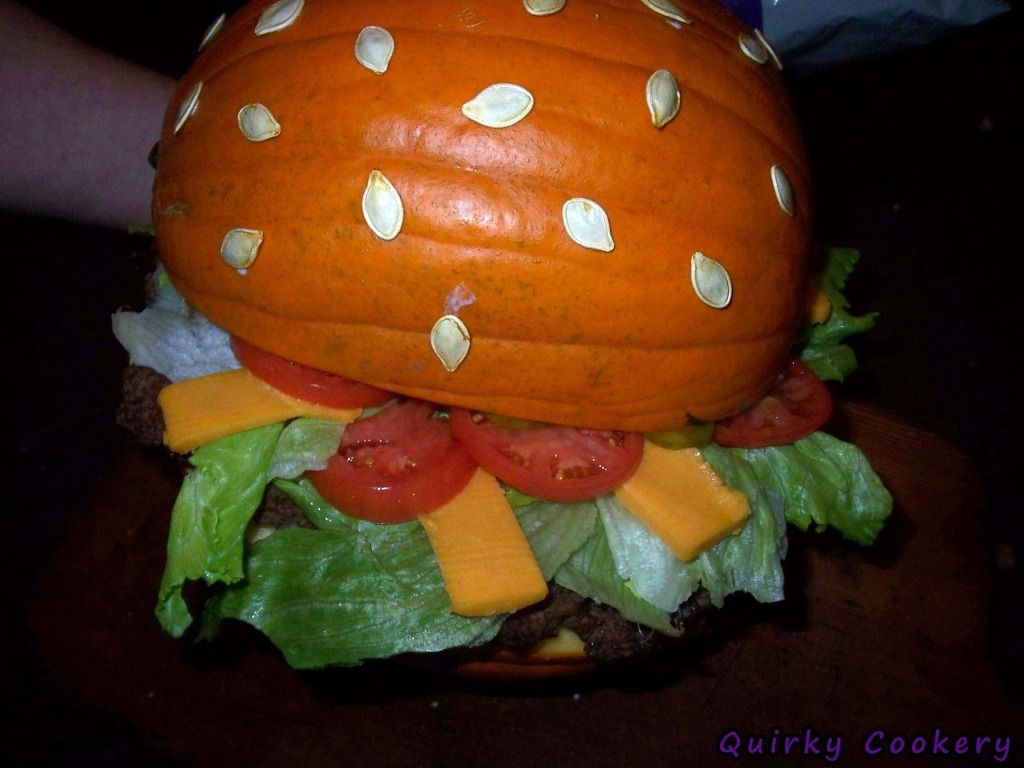 "Bun" – Carve the pumpkin in half. By "carve," what I really mean is that I had to fight with it and a butcher knife until I finally won. It was close, though. This isn't the same as being able to slice off the top for a jack-o-lantern or throwing a pumpkin to bust it into chunks. Trying to get it perfectly even down the middle was a pain in the butt. Ugh. Worth every minute, though. The pumpkin seeds were turned into fake sesame seeds by gluing them on top to look like a real burger bun.
Meat – A mix of beef and turkey so that it wasn't as greasy as pure beef would've been. That meant I could get a full patty to hold together instead of it breaking apart. I cooked it on a large round cookie sheet and let it cool just slightly before sliding it onto the 'bun.'
Toppings – Tomatoes, pickles, lettuce, cheese…. nothing special here. The cheese was left in small slices and not spread across the entire thing so that it made it easy to serve individual burgers after we deconstructed it.
Serving – I cut it into jagged squares-ish, based loosely around the cheese and tomato slices fell and let each person reconstruct their own burger on a regular bun. Then they could add their own condiments and trade toppings they don't like to other people before eating. You could easily toss them in a toaster oven to melt the cheese more or add the cheese to the whole patty before putting the burger together in the first place. I wasn't sure how well it would hold my first time, though.
The full process of stuffing it carefully, wrapping it with bacon, slathering it with green sauce, etc, can be found on 9gag…..in large, glorious, drool-worthy photos.
I'm slightly disappointed that's green chili sauce and not an avocado guacamole sauce, but any and all hints of disappointment are smothered away by the oozing cheese.
via my sister
Alright, so I kinda laughed when I first saw this. Seriously? Braille on buns?? What kind of advertising stunt is this? sigh
But then I watched the video, and really, it's not such a bad idea. Sure, it's publicity stunt, but I'm pretty okay with that. They made some good points, thought creatively, and are reaching an audience that is rarely catered to in food, much less in a way like this. It's pretty awesome!
The month is about over, but January was National Braille Literacy Month and these burgers are from Wimpy's in South Africa. They also released all new braille menus, but the burgers are the cool part. Unfortunately, they aren't actually a regular item on the menu and were just brought to a blind institution for promotional purposes, of course, but the commercial makes you think.
"….but for people who use their hands as their eyes, this was the first time they could do more than just their food. They could see it." :)