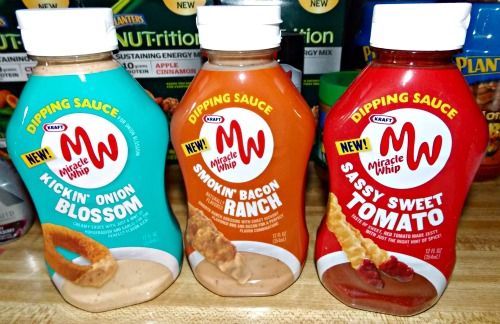 For starters, I'm not affiliated in any way shape or form, nor was I asked to write about this. I just happened to get an email for a coupon for these and they caught my attention.
I don't buy Miracle Whip. I have no use for it. It's too sweet to be a mayo substitute and I can't think of any other reason to ever use it.
But they could sway me into at least trying their new sauces, I think. After all, I do kind of have a thing for trying new dips, right? The real kicker was the image used in the newsletter, though: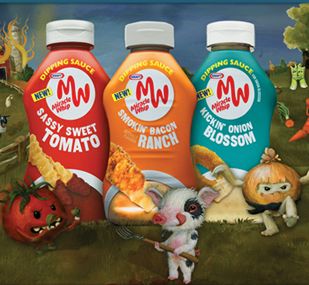 I suppose it was literally a 'kicker' who grabbed my attention, with a ninja karate kickin' onion, farmer cow-pig thing (erm, what is that?) and a killer tomato. The tag line was "new dipping sauces from the twisted mines of Miracle Whip." Okay, yeah, I'll bite. Those are cute!! The power of advertising actually sucked me in on this one.
Has anyone tried them yet? I think there's still a $1.50 coupon floating around out there if you're interested. I haven't tried them and I'm a little hesitant, despite the twisted mascots, simply because I'm betting they're loaded with chemicals, but it's still worth a shot.