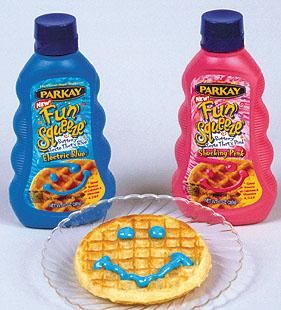 Here's a fun "did you know?" and no, I'm not talking about the pink Parkay in the picture above!
Back in the 1870s and 1880s, in an attempt to restrict the sale of margarine even more than their taxes and labeling laws, they forced manufactures to add pink coloring to margarine. The idea was that the pink would make it unpalatable and less desirable, and therefore, discourage people from buying margarine instead of butter.
The color bans started in big dairy states like New York and New Jersey (no surprise, right?) and even created an entire underground market for bootleg colored margarine (yes, that was a real thing) and food coloring capsules so that consumers could need in the yellow color into their margarine to make it look more like butter again.
Between the color rules and the taxes, it cut margarine sales down immensely (to about 40% of their previous sales). Eventually the Supreme Court jumped in and overturned the laws, but as many as 80% of Americans didn't have access to yellow margarine (oh noes!).
Fast forward a little more than a century and Parkay actually intentionally released the colored Fun Squeeze versions of margarine above in hopes of making it MORE desirable and fun, so that people would be more likely to buy it. Everything cycles back around eventually, huh?
~Edit~ Oh, and I don't think Fun Squeeze is still sold in stores, but you can get it on Ebay! http://www.ebay.com/itm/PARKAY-FUN-SQUEEZE-SHOCKING-PINK-MARGARINE-BOTTLE-/190155035809
Pizza pancakes are pretty self-explanatory, but in case you're not sure what you're looking at…. those are Bisquick mixed with standard pizza toppings like pepperoni, sausage, and mushrooms, fried until cooked like normal pancakes, and then topped with marinara/pizza sauce and cheese.
This may be a brand new concept for some people, but if you'll remember, I'm already acquainted with adding meat to waffles when my sister makes them for our dog. He's never complained before and considering he's the pickiest animal I have ever met (and then some!), I know they must be good. :P
As for the pizza ones, I'm a fan of using pizza toppings/flavorings in/on vehicles other than a pizza dough crust that takes at least an hour of rising time. I like quick and easy, ya know? So tortilla pizzas (like Hello Kitty, to boot), crockpot pizza, pizza biscuits, and even pizza zucchini appetizers are all fair game.
I'm not really feeling the pancakes specifically, though. I'm sure they taste great, but I kind of prefer the "set it and forget it" style for pizza alternatives, so standing over a griddle, making dozens of pancakes (as if I ever make just one, pfft), doesn't exactly sound that enticing.
I do love one of the suggestions in the comments, though. One of her picky eaters used them as a lunchable style snack, microwaving them the next day with sauce and mozzarella in between. To think of them as quick snacks for any time is actually a great idea!
If a plate of fried chicken and waffles could be cute, this is it. That's ironic considering it's from a site called Dude Foods, too, ha.
You'll have to check out his site for the full details of how to make this, but here's a hint:
In the recipe and instructions for the fried chicken and waffles, it says "wings," throughout, but he actually means drumsticks or legs, so just make sure you're buying the right chicken. I think this would be quite awkward with wings, hehe.