Yes, I'm pretty sure that's a hooker hoagie…. Or stripper bananas?
I really don't have much of an explanation for this photo actually. There's no missing context from my end.
While in Las Vegas, we crossed the street and were waiting to cross the next. On the corner, right next to the light, there was a bunch of 3 bananas and a fully wrapped sub just sitting there. No one else was around. I can only assume that this was left for some homeless guy or gal to come by and scoop up.
I have no idea if this is normal, but I love the idea! I can only hope that the food wasn't tampered with and was really just good intentions to make someone's day with a full belly.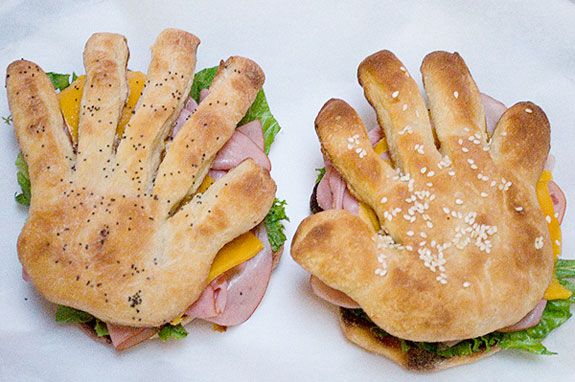 They're intended to be finger sandwiches. :)
They are actually really easy to make, too. Instead of shaping bread after it has been cut or having to make it fresh, they used frozen dinner rolls. Simply flatten out a piece of dough into a rectangle and then cut slits into the dough where you want the fingers to be. Bake for 10 minutes or so and then fill with your favorite sandwich fillings.
These were originally made for Halloween, but I think they could work for a lot of different parties actually. For example, how about any "congratulatory" celebration where these could be offered as "high-fives"?