(Today's post is brought to you by a guest writer.)
For a long time, English food has earned itself a bit of a reputation and it's not been a very positive one. However, times have moved on and today, traditional dishes that were once scorned at are prepared to perfection and served up in many top restaurants – even if they do enjoy slight variations and ways in which they are presented. Below are the top 5 most famous British dishes most people in the world have heard about even if they have never tasted them.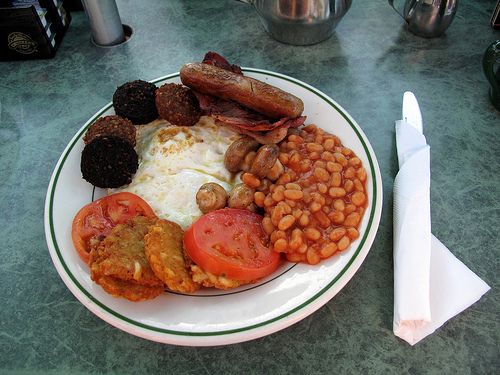 The Full English Breakfast
1) The Full English Breakfast
Foreigners arriving on British shores often want to try out the Full English Breakfast they have heard so much about, and while some people are never disappointed at what they get on their breakfast plates, most visitors are a little bewildered. The Full English is a hearty meal with bacon, sausages, eggs, fried bread, black pudding, baked beans, mushrooms and fried tomatoes. All this is served up with rounds of toast and a pot of tea or coffee. It's the sort of breakfast that sets a person up for the whole day – especially if they are not used to eating such a hearty meal first thing in the morning!
2) Roast Beef & Yorkshire Pudding
The Sunday roast as it is often referred to, consists of roast beef served up with roast potatoes, lots of vegetables and the traditional Yorkshire pudding. All this served with lashings of gravy not forgetting the 'must have' horseradish sauce which is a typical condiment to have with beef in the UK. These day's lots of pubs and restaurants around the country serve up roast beef and Yorkshire pudding on any given day of the week – although traditionally this is only prepared on Sundays. Getting the Yorkshire pudding just right is a real skill that tests anyone's cooking abilities!
Roast beef and Yorkshire pudding
3) Friday Fish & Chips!
This is another British specialty that most people around the world have heard about. What they may not know is that chips were first prepared in the UK as long ago as the 1860s or so it is thought. British chips are much chunkier than French fries too! The fish served in Fish and Chip shops is battered and this is rather soft in texture, although there is a newer trend to have a crispy batter too. Fish & Chips have grown in popularity over recent years with some smart London restaurants only having this specialty on the menu!
4) Shepherd's Pie
Shepherd's pie or Cottage pie as it is often called, is cooked meat that boasts a layer of mashed potato on top of it. Again, this is a very traditional British dish that dates back to the 18th century when potatoes were the staple diet for the poor. The meat used was any sort of left over roasted meat and originally the dish was called Cottage pie, only later becoming known as Shepherd's pie. Shepherd's pie is normally made with lamb while Cottage pie is usually made using minced beef.
5) Steak & Kidney Pudding
Steak and Kidney pudding is another wonderfully wholesome traditional British dish that consists of chunks of beef, kidneys, onions and gravy which is made into a pie using suet pastry although it can be made with a rough pastry too. When rough pastry is used the dish is called Steak and Kidney Pie. Traditionally, the gravy is made using ale or Guinness making it very thick and rich in flavor.
Conclusion
There are many wonderful traditional British dishes that people around the world have heard of, but never actually tasted. When visitors first arrive, they do love to try at least one of these dishes. The traditionally prepared specialties can be sampled in pubs and a few hotel restaurants although many of the well-known city restaurants do serve traditional British dishes albeit with an ultra-modern twist to them.
Image credits: peasap and Ewan-M
Author bio: This article has been brought to you on behalf of Roast Restaurant, our London bridge restaurants offer a unique dining experience and exquisite food.