Reminder that this year's NaBloPoMo theme on Quirky Cookery is "adults." Content may not be appropriate for kids.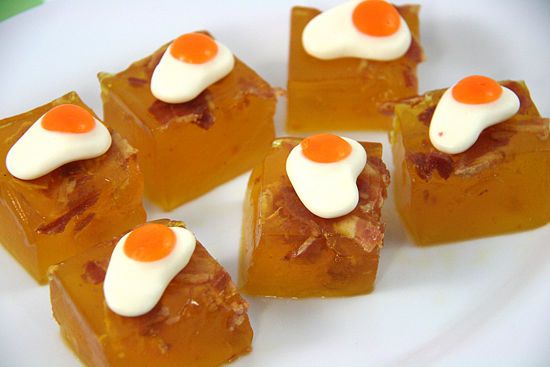 1 cup water
2 envelopes unflavored gelatin
1/2 cup salted caramel flavored syrup
1 cup bacon-flavored vodka, chilled
1/4 cup cooked bacon, finely diced
Gummy fried eggs for topping
The full picture tutorial on how to make them is on WikiHow.
I really don't recommend having these for breakfast every day, especially if you work outside the home. And please be careful if you're an expert shot shooter…. You're liable to choke on those little egg candies. Oops.
Also, is anybody else weirded out by the idea of bacon bits in jello? What a strange texture….
Don't shoot me for the "double rainbow" reference please. I'm torturing myself for it enough as it is. :(
Isn't that cool? A friend sent it to me and said she was too lazy to figure out how they did it.
Or maybe she said she just couldn't find the answer. Hmm. :P
Anyway, I said I'd post about it 'and' research it, so here's the explanation:
"Take a shaker tin and fill it 3/4 with ice. Add Malibu, Vodka, and Triple Sec first. Tilt the tin and add Grenadine. Then add OJ and Sweet and Sour. Finally topping it off with Blue Curacao. Do not shake. Watch the colors layer as you pour. In LA we use 6 Rocks glasses with 2 ounces each. Meant for 2 people"
So there you have it. Others said the drinks really don't taste that good, but it's really cool to watch them make it. I'm sure it costs a fortune, though, and to be meant for only two people? I hope they don't mean for all to be down at once then, hehe.