Bacon and eggs jello shots
Reminder that this year's NaBloPoMo theme on Quirky Cookery is "adults." Content may not be appropriate for kids.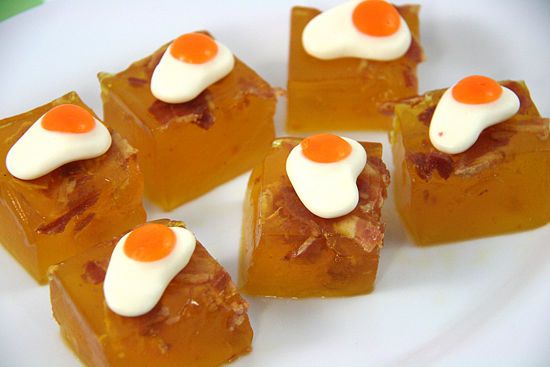 1 cup water
2 envelopes unflavored gelatin
1/2 cup salted caramel flavored syrup
1 cup bacon-flavored vodka, chilled
1/4 cup cooked bacon, finely diced
Gummy fried eggs for topping
The full picture tutorial on how to make them is on WikiHow.
I really don't recommend having these for breakfast every day, especially if you work outside the home. And please be careful if you're an expert shot shooter…. You're liable to choke on those little egg candies. Oops.
Also, is anybody else weirded out by the idea of bacon bits in jello? What a strange texture….
Comments