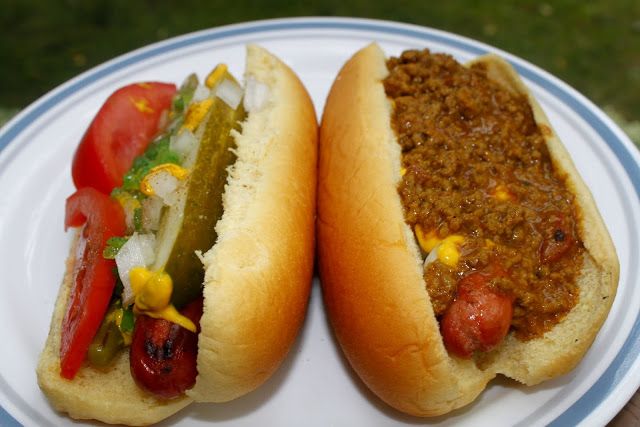 This one is new to me entirely, but it does make sense.
If you're the type who only adds a bit of ketchup or mustard or maybe the occasional scoop of relish, then this isn't going to apply to you.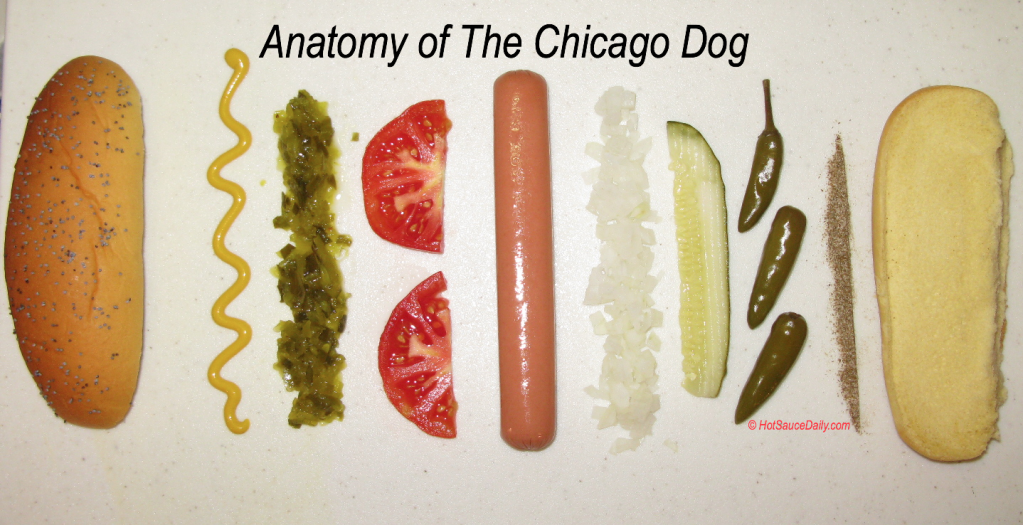 But if you're the type who loves to pile on the toppings (Chicago hot dogs, anybody?), then you know all too well the pains of trying to keep all those toppings in place atop a slippery hot dog while you chow down.
So for the best hot dogs, what you're actually supposed to do is start putting some of those toppings on first instead of on top. Don't simply put on the ketchup and mustard because that will obviously make the bread soggy by the end of your dog. Instead, put the sturdier items on the very bottom like onions or pickles (or even lettuce, if that's your style). Then pile on some of the other wetter ingredients.
Now if you're at home, that's pretty easy, but people shy away from doing that at a hot dog stand, right? So just ask the guy for your bun while they're grilling the dog and you'll cut your waiting time in half, too. Once you place the hot dog on top of all of the ingredients, it'll somewhat squish into the middle and you'll have the perfect hot dog before you know it.
Um yeah, check out this list of ingredients:
4 each 6 ounces Fresh Salmon (or fresh fish of your choice) Fillets
1 teaspoon Creole seasoning blend
1/2 teaspoon kosher salt
8 small flour tortillas
12 ounces finely shredded cheese (Mexican blend)
6 cups spring mix of lettuce, washed, dried and torn
1/2 cup Citrus Vinaigrette (see recipe below)
1/2 cup cooked corn kernels
4 ounces sliced roasted peppers (red, yellow or poblano)
8 ounces Tomato Salsa (see recipe below)
1/4 cup Chimichurri Sauce (see recipe below)
1 ripe avocado, quartered and cut into fan
CITRUS VINAIGRETTE: 2 tablespoons olive oil
2/3 cup rice wine vinegar
1/3 cup orange juice
1 tablespoon Dijon mustard
1 teaspoon honey
2 teaspoons minced garlic
1 tablespoon minced shallots
1/2 teaspoon Creole seasoning
2 tablespoons chopped fresh cilantro
CHIMICHURRI SAUCE: 3/4 cup extra virgin olive oil
1/3 cup rice wine vinegar
1/2 cup fresh squeezed lemon juice
2 teaspoons kosher salt
1/2 teaspoon black pepper
1 bunch (1 1/2 ounces) flat-leaf parsley, stemmed and minced
1/2 bunch (1/2 ounce) cilantro, stemmed and minced
1/2 teaspoon dried oregano
Scallion tops, thinly sliced
4 teaspoons minced garlic
TOMATO SALSA: 1 1/2 pounds plum tomatoes, seeded and diced
1/2 cup finely diced red onion
2 cloves garlic, minced
2 tablespoons chopped fresh cilantro
1 fresh jalapeno (about 2 teaspoons), stemmed and finely diced
1 teaspoon Creole seasoning blend
Kosher salt, to taste
Juice of one lime
2 tablespoons extra virgin olive oil
Yep, that's what you need to make this:
Now admittedly, it does look good. But that ingredient list seems excessive is insane. And if you actually look closer, some of those things are already prepared and you may have to make your own (like creole seasoning blend), adding to the ingredient list even more.
The recipe is from Food Channel (not Food Network) and says that it's from the Bahama Breeze restaurant, so maybe this is one of those occasions where you'd be better off just ordering dinner instead of making it yourself, hehe. You 'could' just use salsa instead of making yours fresh, but there don't seem to be too many other shortcuts to 'really' replicate this one.