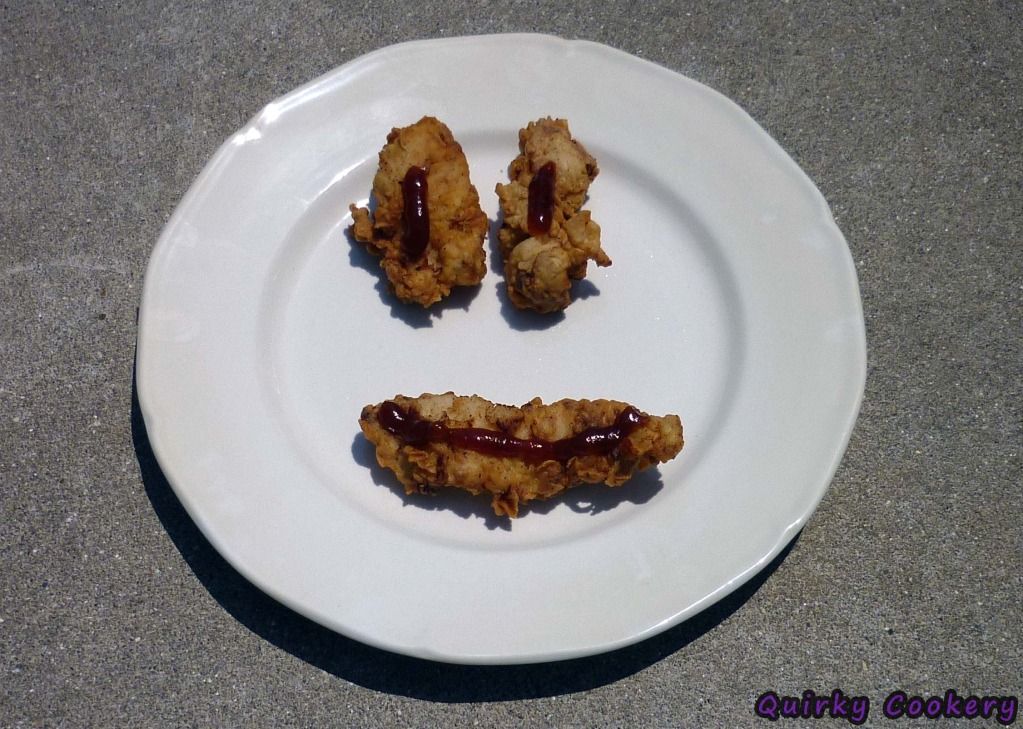 A few weeks ago, I tried the Cracker Barrel fried chicken and well, I may have just fallen in love a tiny bit. For a chain restaurant, that may be a first even, but I really enjoyed the crispy coating and it seemed like the perfect fried chicken to replicate for this challenge.
When it came time to do so, we had company and again, I thought, "hey, this lines up pretty nicely," especially considering one of the kids only eats chicken. "Perfect." And the recipe I found that claimed to be a copycat of it? Looked great!
I decided last minute to try to bake it instead of fry it, though, and it was a HORRIBLE mess. Sure, it tasted okay, but it looked horrible. Parts of it were still powdery and most of the coating stuck to the pan, despite taking precautions.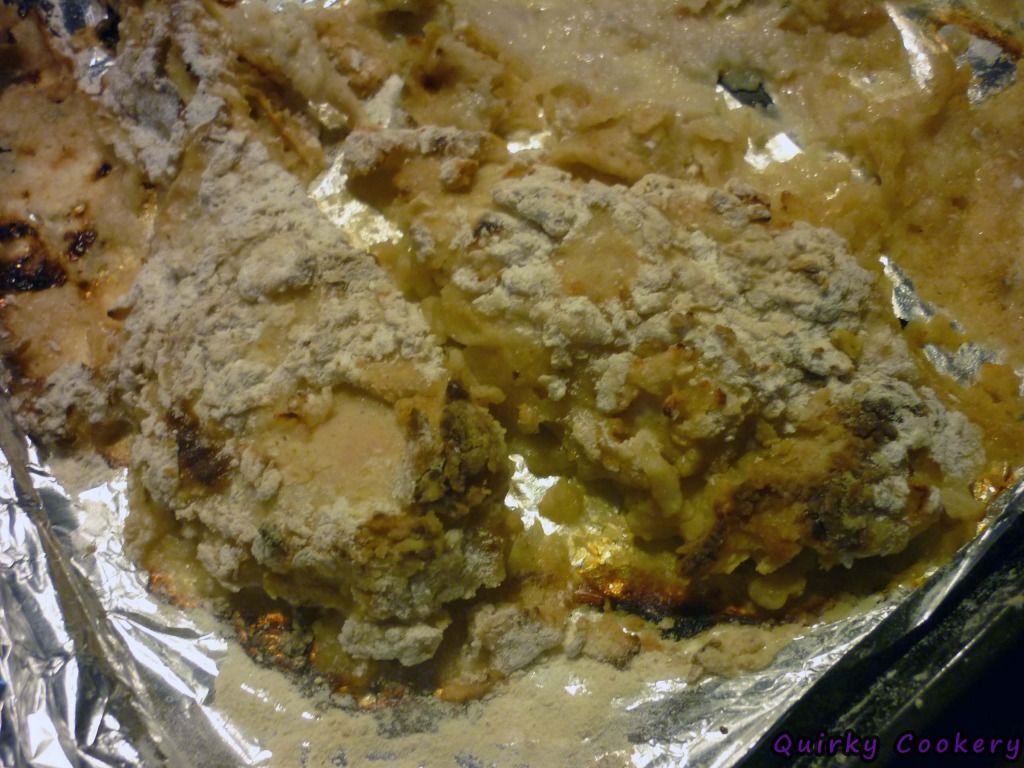 In my book, definitely a failure….so much so that I didn't even consider taking a picture until I was clearing the table and it was mostly gone already. And then I only took a picture to show the mess, ha.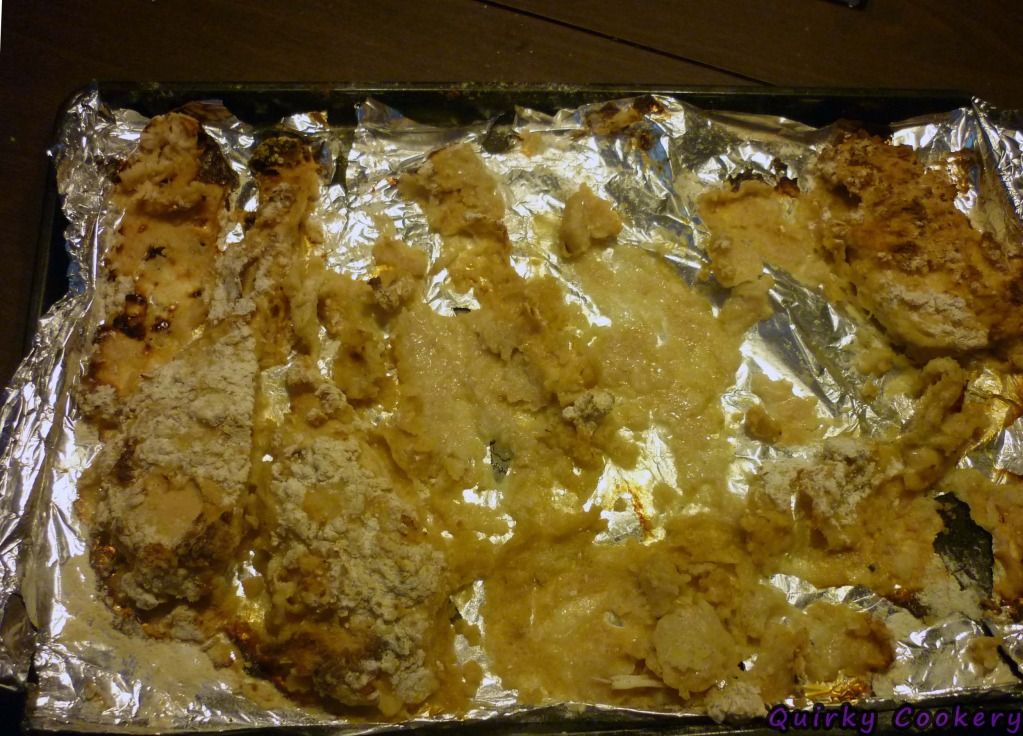 See? Not exaggerating.
I woke up a few mornings later, though, and decided that before I even scrounged around for breakfast, I'd toss another few strips of chicken into a milk bath to soak. I didn't bother measuring out seasonings this time. I didn't even use half of them. It was a spur of the moment thing and I figured I had a 50/50 shot of convincing myself to even cook it later that day. Maybe I'd say 'screw it' and microwave it for the dog instead.
But by lunch time, I did want to fry them. I really wanted to see if it was the difference between baking and frying that made the recipe work. And turns out, it was.
I started arranging the pieces on a lovely white plate, as all food bloggers are supposed to, and at some point midway through, I asked my sister "What am I doing?! That's not how I do this."
At which point, I headed for the smiley face sauce: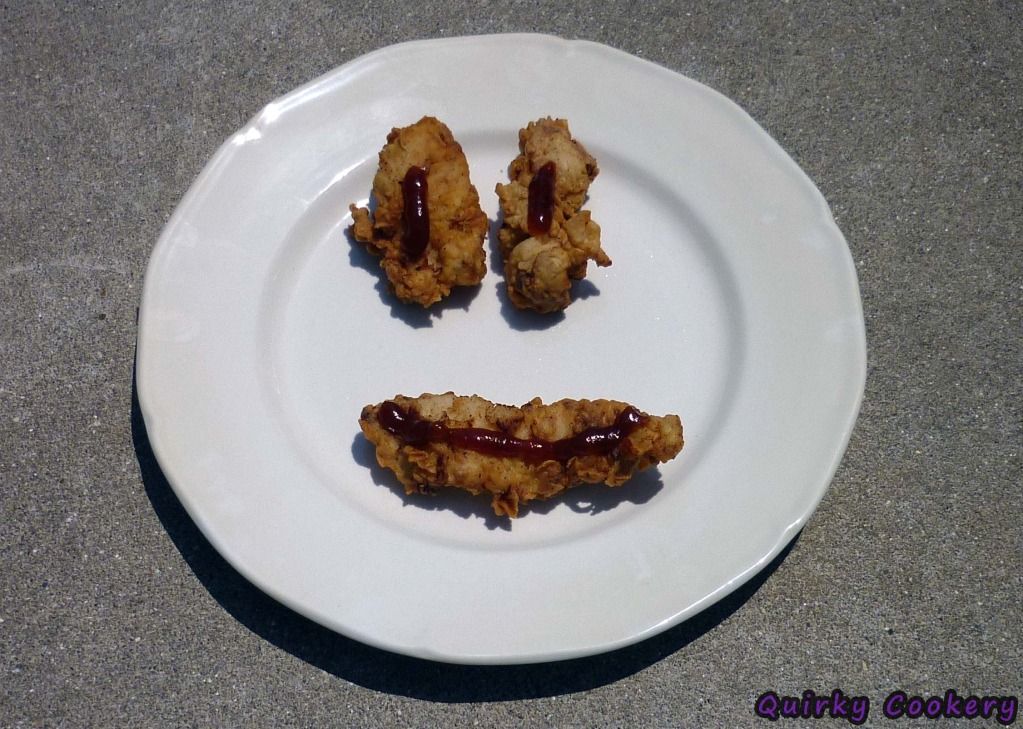 Phew. Personality confusion crisis averted. Much better.
And the taste? Soooo much better than it was when I baked it. This was definitely a case where the batter wasn't going to hold well without being tossed into super hot oil so that it'd hold in a single piece around the chicken….without actually sticking to the chicken at all.
See how it's not really touching around most of the chicken?
Anyway, this was sooo much better, both in presentation and taste departments. The double-dipping in the batter was worth the little bit of extra time and for once, this is a recipe I'll likely repeat.
Speaking of, here's the recipe and the linky at the bottom for the Cooking Challenge.
4 cups buttermilk
1/2 tablespoon dried thyme
2 tablespoons Tabasco sauce (used another hot sauce)
2 tablespoons Worcestershire sauce (didn't add)
2 tablespoons kosher salt
2 1/2 teaspoons freshly ground black pepper
2 frying chickens (about 3 pounds each), cut up (used breasts instead)
3 cups all-purpose flour (you think I actually measured this stuff? pfft)
1 tablespoon Cajun seasoning (made my own)
Olive oil or vegetable oil, for frying
The directions can be found here: http://www.epicurious.com/recipes/food/views/Double-Dipped-Buttermilk-Fried-Chicken-358138  I didn't follow half of them, though. I did let it set for a few hours. I did fry it. And that's about it. Cook it like normal chicken….nothing special.
Also, this looks like a cartoon fish: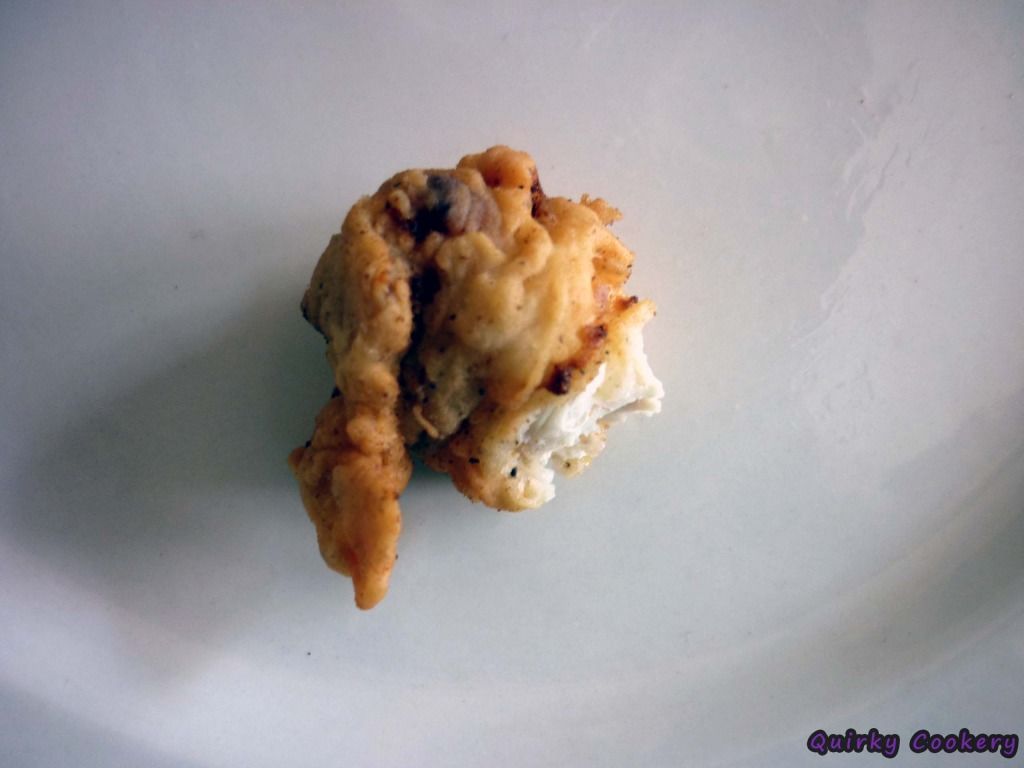 If you don't see it, that's probably a good thing….