Vegetabrella – Why should umbrellas be boring?
The VEGETABRELLA is a compact umbrella that looks like a head of romaine lettuce when wrapped up. When you open it, it becomes a normal umbrella and in summer its UV filter also protects from the sun. It is delivered with a small umbrella bag in the same "salad" design and is delivered in a box that resembles salad cartons for wholesale.
Unfortunately, it's from Tokyo, so for an American, it's not exactly cheap to get access to.
I'm a little disappointed by how it looks when it's opened, too. The closed 'umbrella looks just like lettuce, no doubt, but when you open it, it just looks like a green umbrella that's incredible wrinkly.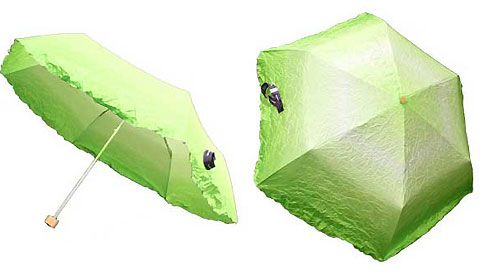 Can you iron an umbrella? I'm not a big fan of ironing, but even I would be tempted to pull one out to straighten this up. Then I'd be probably be upset again when I folded it up and it now looked like a plain umbrella instead of like lettuce. Woe is me….what problems I have with quirky products, eh? :P
Comments