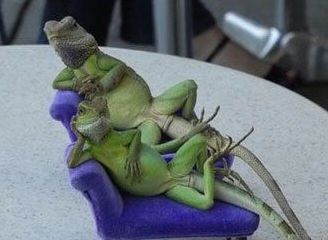 I really wanted to show you a picture of the cooked iguana legs from Serious Eats, but I know some of you are a little squeamish. And if food bloggers every where preach to not even post bones, I'm pretty sure it'd be frowned upon if I post dissected iguanas, too.
But they look so cool!
There is a video at that link, too, so you can see how they hunt them and cook them. Pretty interesting. I imagine they're going to taste much like frog legs, too, although probably a bit chewier since they are smaller.
In other news, while I was trying to hunt down a cute picture of some reptile for you, I stumbled across an item from a couple years ago. Apparently they discovered a new species of lizard….at a Vietnamese buffet!
A reptile scientist was intrigued by the fact that all of the lizards seemed to be females. I suppose only a reptile scientist would be taking note of the gender of their food, ha. Turns out, it's some rare species that can reproduce by cloning itself. Maybe I should pay more attention to what I'm eating?