Reminder that this year's NaBloPoMo theme on Quirky Cookery is "adults." Content may not be appropriate for kids.
Then obviously this zombie pineapple is the perfect hostess gift. Or maybe it would be your +1?
If you want some closeups of the teeth and tongue, definitely click here. Oh, and the eyes, too. Crepy! The eyes don't appear to be edible and neither is the flower, that I know of, by the rest is. The tongue is actually laffy taffy candy and the "blood" is blackberry jam. Cool, isn't it?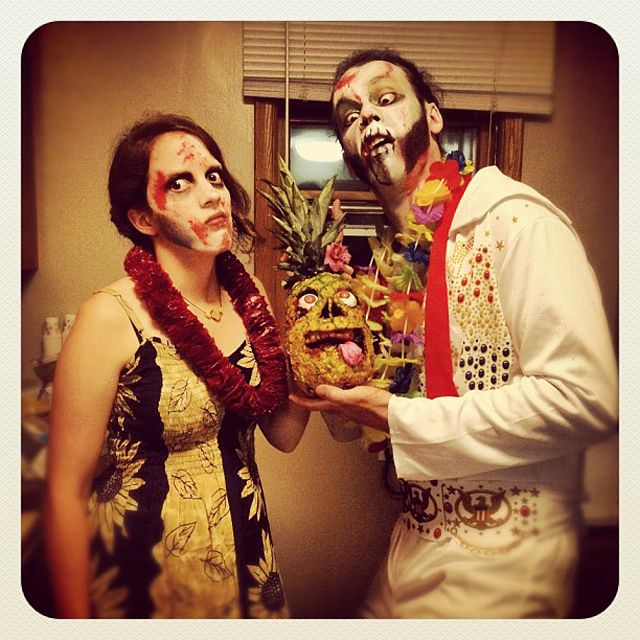 Kebab. Kabab. Kabob. I know what is technically right and I know the original, but no matter how I end up spelling it, it always requires a trip to Google to double check….and at least one person correcting the spelling regardless, so meh. Take 'em all! :P
I love these, uh, skewered candy treats. I don't recommend them for handing out to trick-or-treaters because the candy is all unwrapped…and well, skewers are dangerous, pfft. :P
They're perfect for a party, though, don't you think? I really think they would work for an adult or kid party either one and people would get a huge kick out of them. I'm not sure how much time they take to put together, but assuming all the candy is unwrapped to begin with (have the kids do it, hehe), I doubt it'd take much to assemble them.
The best part is that there's no specific recipe or ingredient list to follow either. You could use any candy that you can get your hands on and put them together in any combination. It kinda makes me think of Monsters Inc with all the different funky monsters.